Breast Reduction Pills in India : Hashmi Cute B Capsule
Breast Reduction Pills (Cute-B Pills) will help you :-
Balance estrogen levels
Improves firmness
Lift and firm your breasts
Healthier, younger looking cleavage
Prevents sagging
Create visibly tighter, more toned skin
Regulate hormones in order to maximize results
Feel Comfortable
Enjoy Firmer even Breasts Naturally
100% natural Pills
No side effects
FOR INTERNATIONAL CUSTOMERS


Description
Hashmi Breast Reduction Pills to Reduce Breast Size
When it comes to breast reduction pills, Hashmi Cute-B Pills is one of the best ways to breast reduction without surgery. It not only eliminates excessive cells in the breast that cause heavy breast size but also gives a curving shape that every woman loves to have. It balances the estrogen level too, that play an important role in breast reduction.
Most women would like to have a "C" shape breast but, the reality is most women have either heavy breast or very small. If you have heavy breast size and want to reduce it naturally, then Cute-B Pills are the best options for you to go for. It will reduce your breast size in a natural manner and give you a cup shape breast.
How This Breast Reduction Pills Works
Natural woman breast reduction pills are works by killing fatty cells in the
mammary organs. This medicine is the outcome of years of research and experiment by medical researchers and nutritionists. They spend their lots of time and efforts to develop the formula.
This medicine is 100% herbal and safe, made with the combination of natural herbs and ingredients. Hashmi breast reduction pills are best suited for an overdeveloped breast to reduce naturally.
Heavy breasts not only makes you look ugly but also creates several health-related issues like neck pain, skin rashes, sagging and many others that will put you in the hot water.
There is no medicine is extremely effective as breast reduction pills in India under the sun. As you know that a single mistake during surgery can ruin your life forever. So, why you are going to put your life into the danger when breast reduction pills in Ayurveda are available to cure the issue naturally.
Breast reducing pills and cream are 100% herbal, safe and most important have no side effects. You don't have to worry about side effects and dangers. This medicine balances estrogen levels and hinders sagging to reduce breast size. After taking this medicine you will be comfortable healthier and younger looking cleavage.
Ingredients :
Ginkgo Biloba Extract, Vitamin A, Aloe Barbadensis Leaf Juice, Retinol
Quantity and Course Duration :
Cute-b pills are packed with 60 capsules per bottle for 30 days. If you are suffering from heavy breast size and wants to reduce you should use this pill hardly 2-months continuously.
Dosages :
Use twice a day after meals but we recommend you to first consult our specialists for complete guidance about diet and other important points or as directed by the physicians.
Are you suffering from heavy breast size and looking for herbal medicine to reduce breast size naturally?
Are wondering about the medicine will works or not?
If yes, you are at right place. Breast Reduction Pills (Cute-B Pills) will help you to reduce your breast size naturally.
Definitely, it will work for you. This medicine has been used by tens of thousands of women's and got amazing results.
So what are you waiting for?
Go ahead and make your dreams comes true:-)
Keep smiling and keep growing,
With Cute-B pills!
Buy Now or Call/E-Mail for a free consultation. (query@hashmimart.com/9999156291)
F.A.Q's :-
Q: Who should take Cute-B Pills?
You can take Cute-B Pills in two conditions:
first– when you feel your breast size is longer than normal.
Second– when you feel your breast shape is not perfect.
Q: How long will it take to experience results?
Generally, it takes one month to get the desired results but there are several cases found in which patient see the results within two weeks.
Q: Are breast reduction pills have any side effects?
No, it is made of 100% natural herbs and ingredients and that's why it has no side effects.
Q: Hello Sir, I'm 22 years old and have heavy breast size. How can I get rid of from?
Heavy breasts are curable now. You should try Hashmi's Cute-B pills to get rid of from. It will reduce breast size and give you "C" Shape breast.
Q: Is it better than surgery?
Yes, of course. This medicine reduces breast size naturally where surgeries are painful and risky. Surgery can also have side effects but this medicine hasn't any side effects. Surgery may cost higher than natural treatments.
Q: How much it cost?
As you can see that, this (cute b pills) breast reduction cost you by 2850 INR for 10 days.
Q: Is breast reduction exercise is mandatory and if yes then what? 
No, it's not mandatory but you can do shorts of breast reduction exercises such as Push-Ups, Shoulder Shrugs, Upright Rows, Shoulder Press, Anterior Front Raises, Side Raises, Jogging, Swimming, Climbing Stairs, hip Shift, Wall Press Technique, Prayer Pose and Bikram Yoga Exercises to get the result quickly. (Do, as per your ease)
Summary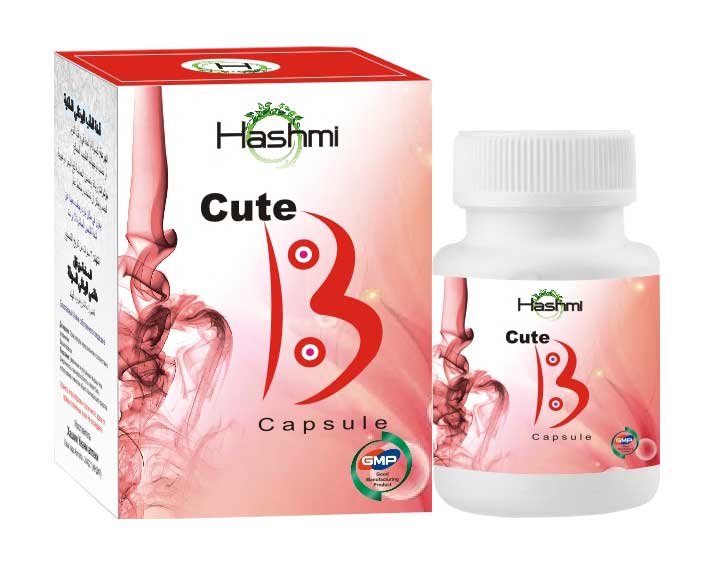 Author Rating





Brand Name
Product Name
Price
Product Availability